I have two Chiweenies, one and five years old. I had fed store bought brands for years until as a dog trainer, I attended a dog nutrition seminar that shocked me! I learned that the big dog food brands were filled with all kinds of things I would never have fed it I had known. Like a million other dog owners, I had no idea how unhealthy those foods were. I wanted to feed my dogs better but just could not afford it. I also wanted to do a healthy designer food but again, just too expensive. Michelle, the owner of Chompster, is a training client of mine and talked to me about the human grade cooked dog food that she and her family had been manufacturing for years in Canada. I switched my dogs to Chompster and I can not be more happy with the results. Immediately I saw their coats become shiny and their energy level even out. Once their little bodies had time to shed the sugars and preservatives that had been in their old food I even saw a difference in their temperament. I love Chompster and recommend them to all of my training clients and friends.

Julie Brady-CPDT-KA, AKC-CGC
Certified Professional Dog Trainer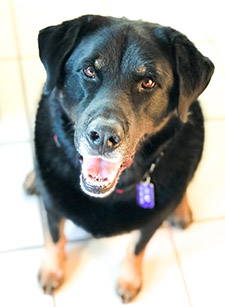 Being an animal lover, I of course want to feed my dog the very best. I have a 100lb Rottweiler mix that I rescued about a year ago. Bear is a lot of dog with a lot of energy so it's important he gets the right nutrition from his food. Bear also has some allergy issues and sheds quite a bit. My dog walker suggested that I try Chompster. Bear has been eating a mix of Chompster and kibble for a couple of months now and I couldn't be happier with the results. The shedding has reduced and Bear loves the food!

Leslie Rand-Luby MD
We are so relieved to find Chompster and to see how much our Yorkie, Kee kee, loves it! We had been struggling to find a food that would be delicious and nutritious that she would actually eat. Chompster is top-quality, fresh, easy to serve, and Kee kee can't wait for her meals now! She eats well, has plenty of energy, and her coat looks fantastic. She has never been healthier and we couldn't be happier for her. Thanks, Chompster!

Lisa Anderson / Costa Mesa, CA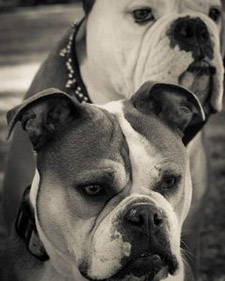 I have three Olde English Bulldogs ages 3 and 4. My dogs go through long periods of allergies where they are constantly licking and chewing to point they make themself bleed. Yeast infections of ears, you name it. I've had my dogs on a raw diet, homemade and store-bought but they still consistently had issues with allergies. My dog trainer told me about Chompster, I was cautious at first because I know how many issues my dogs have because of their diet. Having no luck with the food I was feeding them I decided to try Chompster. I started my boy with the most allergies on Chompster first and I immediately noticed a difference, he stopped scratching within two weeks of starting Chompster and he had way more energy. That's when I started all three of my dogs on Chompster. I have noticed a big change in all three of them and not only have their allergies gone away but they also really look forward to dinner time. Without Chompster, I don't know what I'd do. They love it and so do I.

Caroline Cooper, owner of Neo, Riley, and Darby